Microsoft PowerPoint 2019 Course Book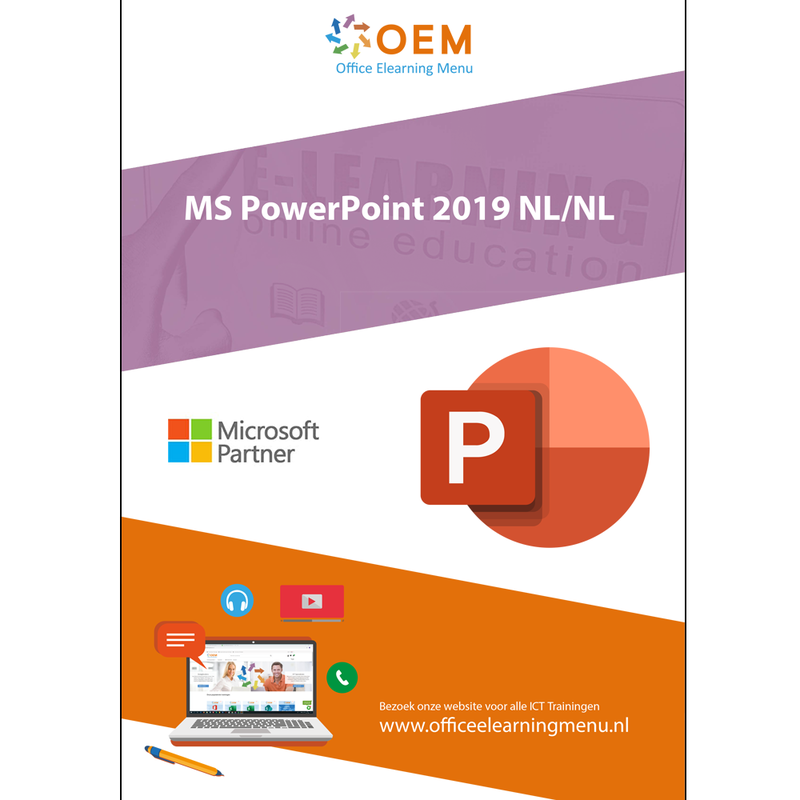 Microsoft PowerPoint 2019 Course Book
€49,95
44,95
49,00 Incl. tax
Microsoft PowerPoint 2019 Course Book contains 314 pages with all the information and many exercises. Ordered today, delivered tomorrow.
Read more
Discounts:

Buy 3 for €42,70 each and save 5%
Buy 5 for €40,46 each and save 10%
Buy 10 for €38,21 each and save 15%
Buy 25 for €33,71 each and save 25%
Availability:

Almost sold out
Delivery time:

Ordered before 16:00, delivered tomorrow.
Award Winning E-learning
Lowest price guarantee
Personalized service by our expert team
Pay safely online or by invoice
Order and start within 24 hours
Microsoft PowerPoint 2019 Course Book
Microsoft PowerPoint 2019 coursebook contains 314 pages. Ordered today, delivered tomorrow.
This practical coursebook shows you in detail all the features of Microsoft® PowerPoint. The book is intended for anyone who wants to learn the capabilities of PowerPoint or deepen their knowledge. The PowerPoint version used for the book is PowerPoint 2019. The book includes all the new elements and the differences from the PowerPoint version of Office 365.
After describing the new interface, the different views and how to manage your documents (opening, saving, sharing and saving presentations and templates on OneDrive, creating photo albums, printing, etc.), you will learn how to design and edit the different parts of a presentation: slides, slide templates, themes, background styles, sections, etc. Once you have mastered this, you can create the content of the slides and enter and format the texts and outline. It then discusses how to create, edit and format various types of objects: automatic shapes, tables, images, 3D models, sound, videos, SmartArt graphics and charts. You will learn to use the functions to edit videos (add a video, crop video objects, apply artistic effects, shorten the beginning or end of a video clip, etc.) and correct images (apply artistic effects and reflection, cut an image into a specific shape, correct colours, compress images, etc.).
Your presentation is now ready to start the slide show, apply animation effects, include clickable images from one or more slides (overview zoom, slide zoom or section zoom) and add notes. You will also learn to set the time settings of the slides, apply transitions (including the new Morphing effect) and save the slideshow as a video, to use in other presentations or share with others on DailyMotion or Youtube.
The final section of the book is devoted to a number of advanced features such as collaboration (sharing presentations and working with several people on the same presentation), customising the ribbon, managing user accounts and combining PowerPoint with the other Office applications.
| | |
| --- | --- |
| Delivery time | 1 working day after payment |
| Language | Dutch |
| Suitable for MOS exam | Yes |
| Book type | Ring binder |
| Content | Text + Images |
| Size | A4 |
| Study book | Yes |
There are no reviews written yet about this product.
Reviews
There are no reviews written yet about this product.
Microsoft Office SCORM e-learning
Wilt u Microsoft Office e-Learning SCORM hosten in het LMS van uw organisatie? Neem contact met ons op.
Tags