Course Word 2019 Expert Incompany Training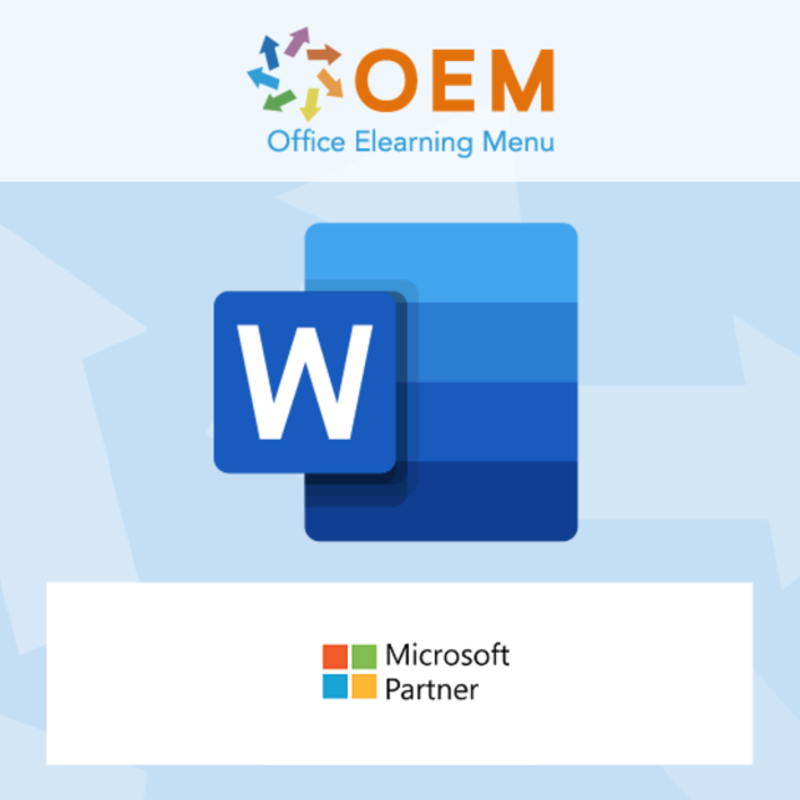 Course Word 2019 Expert Incompany Training
Microsoft Course Word 2019 Expert Incompany Training Certified Instructors Zero-cost Customization Rental Laptops Reference Material Handouts Certificate of Attendance.
Read more
Discounts:

Buy 2 for €783,02 each and save 2%
Buy 3 for €775,03 each and save 3%
Buy 5 for €743,07 each and save 7%
Buy 10 for €719,10 each and save 10%
Buy 25 for €679,15 each and save 15%
Buy 50 for €623,22 each and save 22%
Buy 100 for €559,30 each and save 30%
Buy 200 for €399,50 each and save 50%
Delivery time:

Date / Dates and times in consultation
Award Winning E-learning
Lowest price guarantee
Personalized service by our expert team
Pay safely online or by invoice
Order and start within 24 hours
Course Word 2019 Expert Incompany Training
For an Word 2019 Expert Course Incompany Training we offer a complete solution. Our in-company trainer will be happy to help you identify your needs and requirements and our mission is to ensure that you get as much out of the training as possible. This is why we also create customized training courses that fit your exact needs.
Incompany meaning is really nothing more than that a training is given at the location of your company. This way you, or your colleagues, do not have to leave the office to be trained by one of our certified trainers. This saves time and money. You can arrange an Incompany course quickly and easily via OEM Office Elearning Menu. You choose the Incompany course, indicate how many students you want, when you want the training on location and you will receive an appropriate quote within one working day.
Word 2019 Expert Incompany Training Course Objectives:
That the students, after attending the Incompany course, will have a good understanding of Microsoft Word 2019.
That the students, after following the Incompany course, find their way around Microsoft Word 2019 without any problems.
That the course participants are able to perform daily tasks using Microsoft Word 2019.
That the trainees are motivated to use Microsoft Word 2019 more efficiently.
Word 2019 Incompany course:
Group of up to 12 people.
Fixed contact person
Different options:
Day parts (afternoon, morning or full day).
Divide groups
Language: Dutch or English
Customization
Online baseline: In advance we offer a free telephone consultation with our Microsoft certified
trainer (MCT) who is also a Microsoft Office Specialist (MOS) Master to determine level and discuss
objectives with expert advice.
Intake interview / consultation with instructor (customized)
Instructors (in-company trainer) are scheduled based on industry experience
Trainers (in-company trainer) are scheduled based on their affinity with the target group(s).
MOS certified instructor gives the training
Free course advice from the in-company trainer
Training from practice, not from a standard course book
Logical structure of the course material
Practical exercises
Free handouts
Online evaluation
Certificate of participation
Course books (at additional cost)
Laptop rental (at additional cost)
Aftercare:
Students can ask the instructor questions about the content of the Incompany training by e-mail during a period of 3 months.

What does an Incompany training cost?
The price for an Incompany course depends on your specific requirements. There is a standard fee for half a day, without course books or rental of laptops. This is for a group of up to 12 people. If you have specific requirements or would like additional additions to your Incompany training, we would be happy to prepare a no-obligation quote for you.
Why OEM Office Elearning Menu?
OEM is the only Incompany training course offered by certified instructors with all the necessary practical experience.
Prior to the training the instructor will contact you by telephone for an intake interview.
In this conversation, the following points are determined:
Current knowledge and skills
Practical application of the software application(s)
Expectations about the training
Objectives of the training
The outcome is a customized training content. This ensures that the training is tailored exactly to the needs of the users. The actual learning needs are addressed in the training and other non-less relevant issues do not receive attention.
We offer ample opportunities for online knowledge measurement prior to the In-company training. We call this a so-called baseline measurement. The results of this baseline measurement are always analyzed by a Microsoft Office certified instructor. This analysis results in a recommendation regarding the approach and content of the training and, if necessary, the composition of the group.
Duration
1 day, 6 hours of lessons. Training times from 9:30 am to 4:30 pm or otherwise as required.
Course content Word 2019 Expert Course
Collaborate with documents
Track changes
Adding comments
Compare documents with each other
Accept or reject changes
Translate text
Templates
Creating a template
Creating a document based on a template
Working efficiently with large documents
Working with main and sub documents
Labels and Envelopes
Creating Separate Envelopes
Creating Individual Labels
Creating a full sheet of labels with the same text
Printing labels or envelopes
Securing a document
Editing document properties
Checking and deleting document properties
Setting editing restrictions
Adding a password to a document
Creating Forms
Placing the Developers tab on the ribbon
Adding and editing form fields
Securing a form
Saving form data as plain text
Saving form as a template
Introduction Creating and using macros
Recording a macro
Running a macro
Associating a button or hotkey with a macro
Word Incompany Training Request or would you like Incompany advice?
Contact us or request a quote here.
"Hele prettige manier van uitleg. Sluit goed aan op mijn dagelijkse taken in Word 2019."

Jim on 17 Jan 2021
Reviews
"Hele prettige manier van uitleg. Sluit goed aan op mijn dagelijkse taken in Word 2019."

Jim on 17 Jan 2021
Microsoft Office SCORM e-learning
Wilt u Microsoft Office e-Learning SCORM hosten in het LMS van uw organisatie? Neem contact met ons op.