€129,00 Excl. btw
€156,09 Incl. btw
De beste e-learning training Prezi cursus met praktijk oefeningen, voortgangsrapportage en certificaat van deelname. Start vandaag.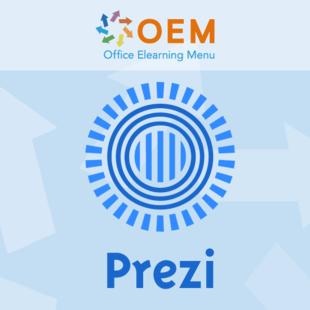 €425,00 Excl. btw
€514,25 Incl. btw
Microsoft Prezi Incompany Training ✓ Gecertificeerde Docenten ✓ Nulmetings ✓ Maatwerk ✓ Huur Laptops ✓Naslagwerk ✓ Hand-outs ✓Certificaat van deelname
Prezi
Prezi is een bedrijf voor presentatiesoftware, opgericht in 2009, met kantoren in Boedapest, San Francisco en Riga.
Vanaf april 2018 had Prezi meer dan 100 miljoen gebruikers die meer dan 325 miljoen openbare presentaties hadden gemaakt die meer dan 3,5 miljard keer zijn bekeken.
Het woord prezi is de korte vorm van "presentatie" in het Hongaars.
Bron: Wikipedia
Vertaald uit het Engels met Google Translate
Prezi e-learning trainingen en online cursussen voor de IT-professional.
OEM Office Elearning Menu biedt Prezi e-learning trainingen en gerelateerde online cursussen aan om u ook online voor te bereiden op een bijbehorende certificering. De docenten zijn niet alleen gecertificeerd, maar hebben ook vele jaren praktijkervaring. Hierdoor heb je dezelfde kennis en ervaring als bij klassieke trainingen. Daarnaast bieden wij ook aan afhankelijk van de cursus Exam quizzen, Online mentor(indien beschikbaar) via chat of e-mail, MeasureUp exam simulatie (indien beschikbaar(soms meerprijs)), Live Labs (indien beschikbaar(meerprijs)) en Tips and Tricks aan.